Meet the Choral Tracks Team
Matthew Curtis
Matthew is the Founder and the voice behind Choral Tracks' rehearsal tracks. He has performed around the world with internationally acclaimed choral ensembles such as Chanticleer, San Francisco Symphony Chorus, Philharmonia Baroque, American Bach Soloists, and the Rose Ensemble.
Matthew founded Choral Tracks in 2012 to empower singers to practice their music and encourage the goal of artistry in the choral rehearsal process. He has worked with thousands of choirs, composers, and choral festivals around the world and is actively recording hundreds of new titles each month.
Alethia Williquette-Kenworthy
Alethia joined Choral Tracks in 2015 as an Audio Engineer and has the all-important job of making Matthew sound good and in tune! She brings all aspects of artistry together in the audio mixing process to turn individually record voice parts by Matthew into a full choir, multi-track performance.
Alethia, concert pianist and organist, has been serving the arts community of La Crosse since 2005 performing and coaching regularly with high schools, universities, and performing arts groups.
Robynn Curtis
Robynn is Matthew's wife and has been with Choral Tracks since the beginning having to endure Matthew's constant singing around the house and office 24/7. She works as an Audio Engineer and specializes in music notation software while caring for their son James at home.
Robynn has also worked as a K-8 music educator for several years in Wisconsin and Northern California. She is a gifted soprano and actively works as Soprano section leader at the Cathedral of Saint Joseph the Workman Cathedral in La Crosse, WI.
Alexandra Burch
Alexandra began work with Choral Tracks in early 2018 as an Audio Engineer. She recently began recording Treble repertoire and, together with Matthew Curtis, on SATB repertoire. The addition of her talented, versatile Soprano voice is an immense upgrade to Choral Tracks, most importantly to be able to offer female, treble singers with a better vocal model than a countertenor voice.
Alexandra is a Senior Vocal Performance and Music Education double-major from Viterbo University. She has performed in 20 musicals and five operas over the years, and is currently a member of four ensembles.
Nate Peplinski
Nate began work with Choral Tracks in the Summer of 2019 as an Audio Engineer. His unique set of skills, and experience performing in barbershop quartets and choruses, creates a great asset for the growth of the Choral Tracks catalog.
Nate grew up on a small farm in central Wisconsin, and spent years operating his own farm and as a hired herdsman. He was active in the choirs all four years at UW-Platteville and has been a member of the Barbershop Harmony Society for 23 years; his dad got him started in the hobby and they still quartet together!
Rachel Schoenecker
Rachel joined Choral Tracks in the summer of 2020 as a recording artist and audio engineer. She is versatile in many styles and genres, and Rachel specializes in Music Theater and Pop.
Rachel recently graduated from Onalaska High School and will be starting at Oklahoma City University Fall 2020 pursuing her dream of performing on Broadway studying music theater. She is incredibly talented and advanced for her age. Rachel has played starring roles in several musicals. Rachel also sings lead in the barbershop quartet Best Sellers who placed 2nd at the 2020 Midwinter competition in Jacksonville, Florida.
Kim Shively
Kim Shively joined the Choral Tracks team in early 2020 as a recording artist and audio engineer. She brings a unique skill set and perspective to Choral Tracks having served as a music educator in high school choir, middle school general music, show choir, and private voice instruction.
Leah Wons
Leah Wons joined the Choral Tracks team in early 2020 specializing in Audio Engineering. She also is a Recording Artist specializing in Classical music.
Leah recently graduated from Viterbo University with a Bachelor of Music in Vocal Performance. She is excited soon be working for Choral Tracks from afar in Green Bay, Wisconsin moving closer to her family with her boyfriend Dale.
Sarah Brailey
Born in southwestern Wisconsin, Sarah Brailey grew up on a farm overlooking the Mississippi River with horses, goats, geese, and all manner of feline and canine companions. Her mother–an amateur Bach-obsessed pianist and organist turned nurse and her father, a physician with an encyclopedic knowledge of opera and a voice to match his six-and-a-half-foot frame–kept the radio tuned to public radio and encouraged their children's musical instincts from an early age.
Mark Brymer
Mark joined Choral Tracks in summer 2020 bringing his decades of incredible talent and experience as a famous composer/arranger and artist. Mark's entrepreneurial spirit has helped taken Choral Tracks to the next level with his expertise in consulting, marketing, and customer experience.
Mark Brymer has been a leading choral writer/arranger for the educational and church choral music markets for more than 30 year. With hundreds of copyrighted arrangements, original choral works, and medleys in print, Mark sells over 750,000 copies of music annually through Hal Leonard Corporation. Additional educational publication credits include being a Senior Music Producer and Arranger for over 400 recordings for the K-6 McGraw-Hill Music Textbook Series and the songwriter and co-creator of the 50-book series, "Sing & Read Math" (Pre-K) Early in his career, Mark was honored with a nomination for a DOVE Award for musical of the year, "Majesty of Christmas."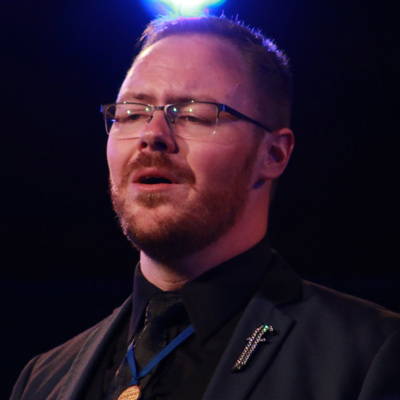 Drew Wheaton
Drew Wheaton is the director of the Louisville Thoroughbreds, tenor of the 2016 BHS International Quartet Champions, Forefront, and baritone of First Take, and is a learning track producer and frequent coach and clinician for choruses, quartets, and ensembles at various barbershop and a cappella events around the world.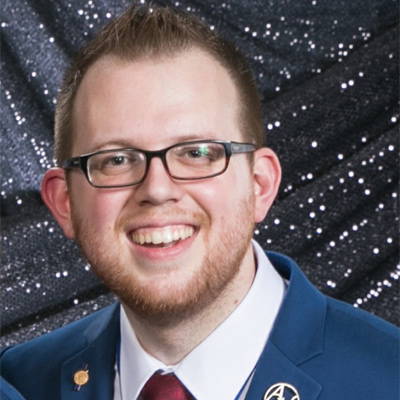 Bryan Ziegler
Bryan Ziegler joined Choral Tracks in late 2020 as a recording artist, specializing in jazz and pop. He grew up singing barbershop, and has performed around the world as the baritone of the Barbershop Harmony Society's 2018 International Champion quartet, After Hours. Bryan has also served as Musical Director of the Midwest Vocal Express, an internationally ranked men's chorus, since 2018.
A native of the Waukesha, WI area, Bryan now lives in Madison, WI with his girlfriend Kathryn. He loves spending weekends with his three kids, Hank (7), Aiden (5), and Jackie (3), and whipping up some gourmet eats while watching his favorite cooking shows!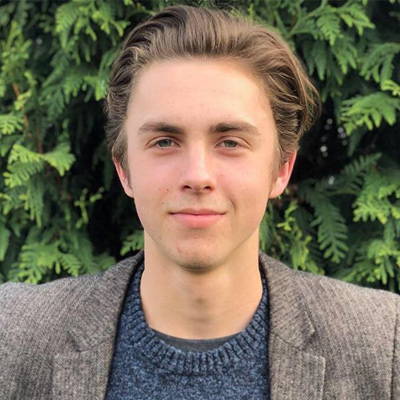 Gavin Mason
Gavin is a senior Vocal Performance major at Viterbo University and has been involved in plays as well as opera productions throughout the last four years. He also has dual interest in composition of which he has composed four concert band pieces and two string quartets with many more on the way.